What is a Pump Skid?
A pump skid is a specialized skid system, used in modular construction, that features a pump as its main component. The pump is housed on a steel frame along with all of the components necessary to run the pump.
Modular skid systems are quickly becoming the industry standard for new builds as well as integration of new equipment into existing builds (also known as retrofitting) because this method of construction allows systems to be completely factory built and tested before being shipped and installed on a job site. Factories provide a controlled environment, that is not dependent on weather or other job site specific factors that might otherwise hinder timely construction, and they increase build efficiency exponentially.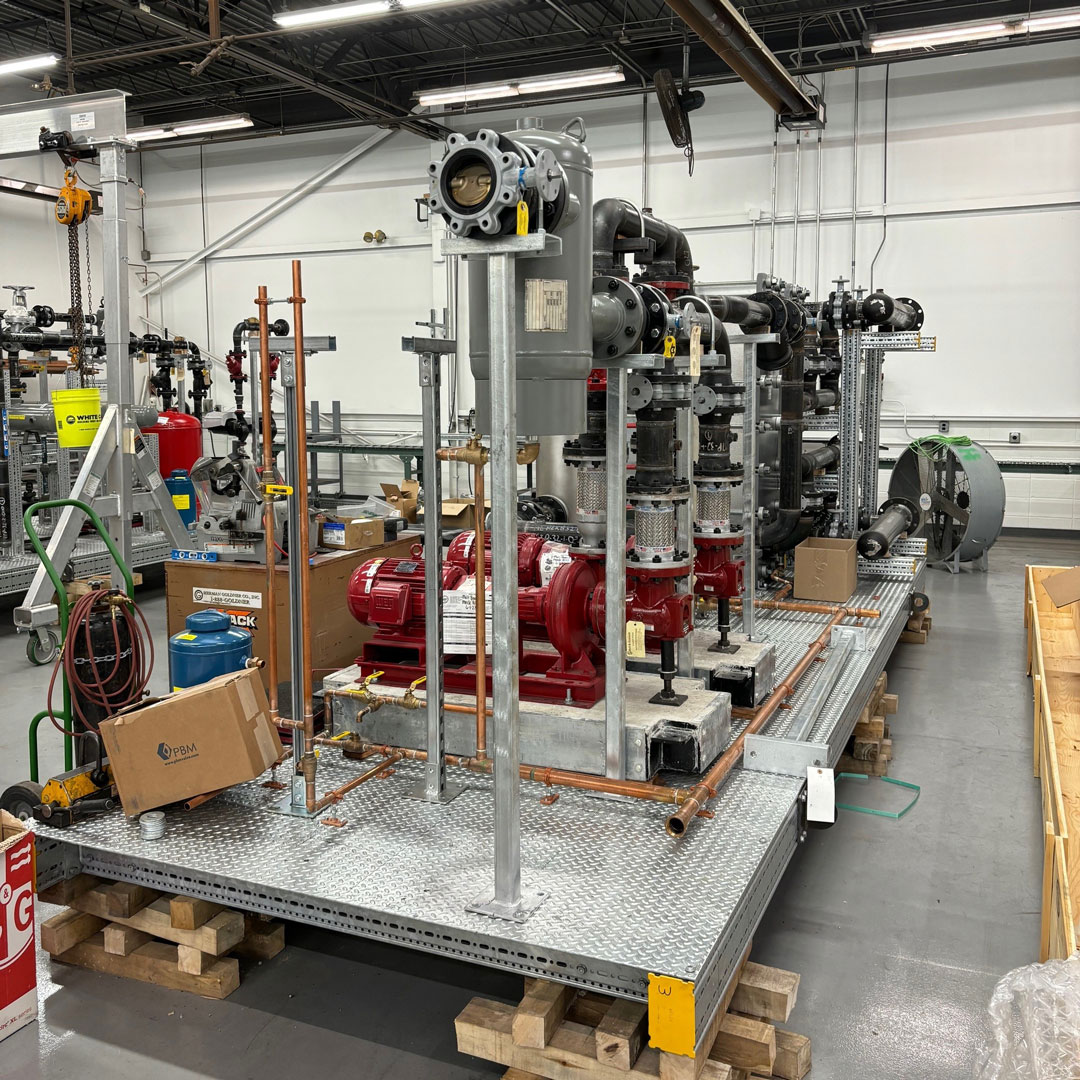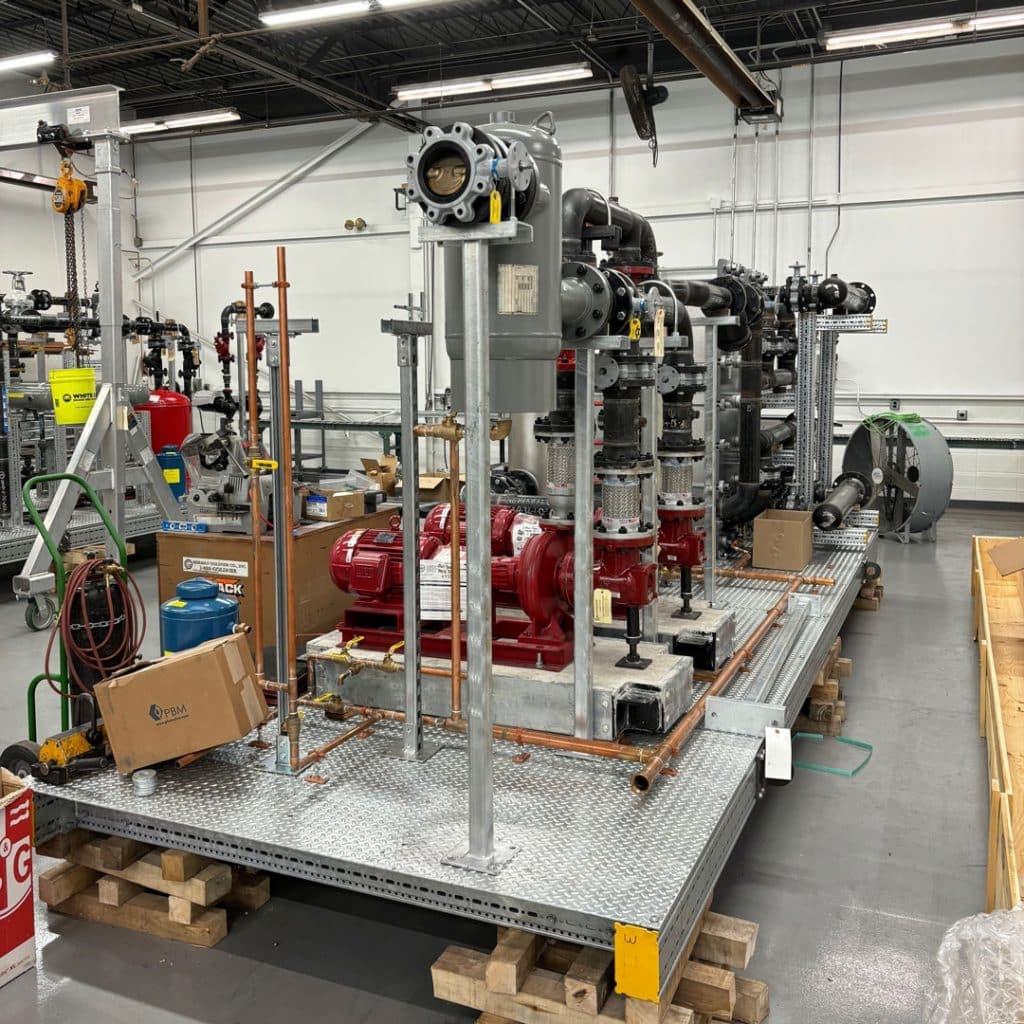 Key Benefits of Our Sikla Pump Skids
Quick assembly with the ability to adjust part positions on the fly
Easy to attach steel floor plates to the frame
Easy integration of Unistrut for the lighter weight supports
Pump Skid Design Challenge
We recently worked with a Philadelphia, PA based customer who was in need of two pump skids for a multi-level facility. There were several challenges we faced during design of the skid systems.
The pump skid had to be assembled without welding the frame
The customer needed a way to lift the skid for shipping and installation
Our design engineers quickly got started on brainstorming the best ways to overcome all of the issues at hand. Our pump skid designs utilized Sikla Modular Structural Steel framing members and fittings, which require no welding. Sikla components utilize a mechanical fastener for all connections, while still maintaining the strength of a traditional welded structural steel system.
This allowed our customer to cut material to the lengths specified in their drawings, in their own shop environment, and to finish assembly there, before moving the completed skid to the installation site. Included in the design were anti-skid diamond plate steel floor plates which are very easy to attach to the modular framing.
We designed and custom fabricated lifting lugs specifically for their project, ensuring that they were engineered to handle the overall weight of their fully loaded skids.
What is a Lifting Lug?
Lifting lugs are used in modular construction to provide safety and stability during the lifting and moving process of heavy skid systems. Depending on the size of the skid, anywhere from 4 to 8 lifting lugs will typically be used to balance the skid while it's being hoisted and transported.
A lifting lug (aka a padeye) consists of a steel plate (or other type of steel section) with a hole to accommodate a clevis pin. It attaches to the frame of the modular skid system and is typically welded into place. However, weld on lifting lugs are not always the best solution. Once they are welded into place there's no way to move or adjust them to account for point loading issues, due to uneven weight distribution.
We designed an adjustable, reusable lug that can be bolted into place on the modular Sikla framing.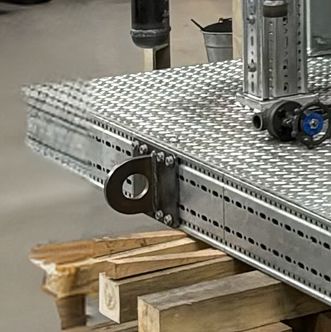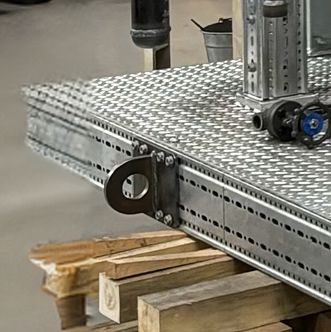 How to use Container Lifting Lugs
The container lifting lugs that we engineered and manufactured for this project, in conjunction with Sikla and our Metal Fabrication Services division, consist of a plasma cut steel plate, welded at a 90 degree angle to another piece of steel plate that has a hole for the clevis pin burned into into it. The plates are attached to each other by a certified welder, to ensure proper fusion of the joins and ability to withstand the weight load for the project. The base plates include holes for mechanical attachment hardware that is bolted through the Sikla beam.
Let us Design Your Next Skid System