Pipe Rack Design & Construction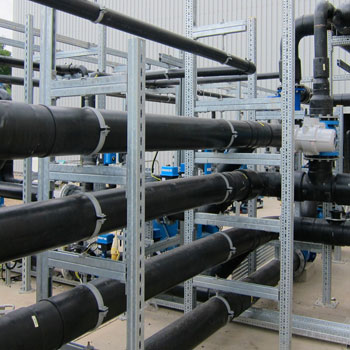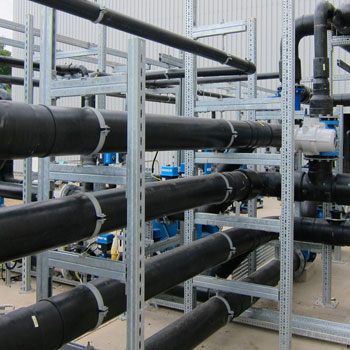 Building pipe racks to mount and support pipes for any construction project is a daunting task which requires precise measurements and accurate designs. Specific weights need to be accounted for, preexisting equipment and supports need to be taken into consideration, and even the smallest of obstacles can delay a project or compromise the integrity of your supports. With these challenges in mind, our Modular Mechanical Supports division has come up with a modular pipe rack solution that not only saves you time and money but also allows for simple assembly and on-site modifications.
Our team of project engineers and designers provide you with project planning and management, engineering stamps, takeoff & design, and even on-site assistance to ensure your pipe racking meets every requirement and provide you with the best possible support. We work with you every step of the way and help create the perfect solution to all your pipe support problems.
Modular Mechanical Pipe Racks for the Pharmaceutical Industry
We were recently contacted by a mechanical contractor who needed multiple piping racks on the 1st and 2nd floors for a pharmaceutical building on a medical campus in southeast Pennsylvania. They needed a solution that allowed them to directly attach the pipes to concrete walls, navigate long stretches and corridors, and maneuver around previously installed equipment. They also needed a solution that would allow one of the pipe racks to be easily transported and assembled on the 2nd floor of the building.
With the problem laid out in front of them, our team of experts quickly went to work designing and engineering a system that could easily be assembled with a set of simple step-by-step instructions. The pipe supports were fabricated out of Sikla siFramo, giving the system modularity. This meant the mechanical contractor was able to make cuts and changes directly on the job-site without adding additional delays to the project timeline and the ease of assembly resulted in major labor savings. The modular construction aspect of the design also allowed for the mechanical contractor to easily transport material to exactly where the systems were going to be installed. From concept to completion, our Modular Mechanical Supports team worked with the customer to get the job done on time and on budget.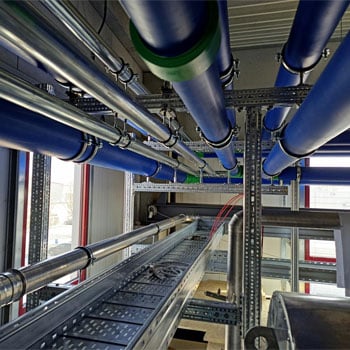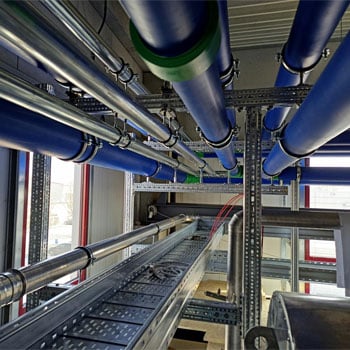 Who We Are and What We Do
Modular Mechanical Supports, MMS, is the sixth and newest division under Eberl Iron Works, Inc. Focused on providing customers with custom structural framing, equipment skids, pipe racks, strongback pipe supports and more, our team of project managers, estimators, and designers work with you every step of the way to make sure all your project specifications and requirements are met. For more information about what we do, who we are and how we can help with your next project, Click The Button Below!