Applications Catalog
Download the Modular Mechanical Supports (MMS) Applications Catalog
Save paper – download the most up to date version of the catalog here, in digital format.
Get Instant Access to MMS product applications, product information, company services and more! Modular Mechanical Supports (MMS) manufactures a wide variety of high quality modular structural MEP support solutions for the commercial building and construction industries, shipped fast, Nationwide!
MMS is a division of Eberl Iron Works, Inc., a third generation, family-owned business, serving the needs of our customers since 1923!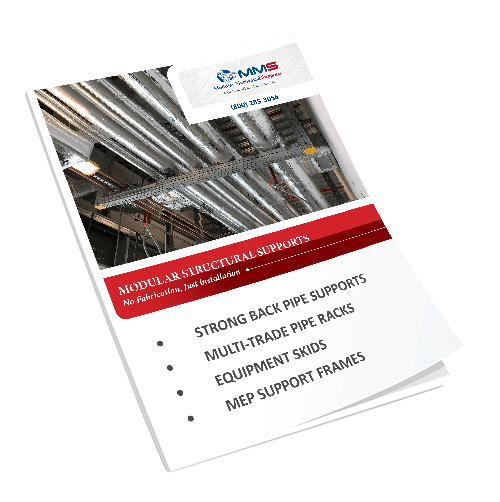 Enter Your Name & Email
for Instant Access
*Download times may vary. Please note, catalog is in PDF format – you must have Adobe Reader (a FREE and trusted program) installed, to view it. If you do not already have Adobe Reader installed, you may download it from the Adobe website.*
Product Drawings
Strongback Pipe Supports
Request Drawings
Please let us know if we can provide you with any drawings not yet listed on our Product Drawings page. We'll be happy to work with you to get you the file(s) you need in the format that you need them in!
Sikla Literature
Product Catalogs
Specifications
Assembly / Installation
Finish
Video Library
Time Trial: Sikla Framo vs Welded Steel Construction
Strongback Pipe Supports
SiFramo Attachment to I-Beam Using U-Holder Beam Clamps
Crossbar Assembly Shown with U Bolt Brackets / Mounting Plate Options
Slide Set Attachment: Pipe Shoe with Guiding Bracket
Pivot Joint GE F Assembly
Double Cantilever Assembly with Footplate Mounted to Concrete
Goal Post Attachment to Primary Steel Structure
Connection of Heavy Duty Sikla Framo to Primary Steelwork using Welding Adapters
Credit Application & Tax Forms
Use this page to download our confidential credit application, then fill it out and return it to us, by completing the form below and attaching your completed application. Tax exempt forms may also be submitted here. If preferred, you may also submit your completed credit application and/or tax exempt certificate to us via email: [email protected], or fax: (716) 854-1184.
Applications may take several days to process. In order to speed things up, please make sure that all of your references are current and valid, and that you have provided current contact information (phone number, fax number, and email) for all of them.
Shipping & Returns
Catalog Weight, Dimensions, and Design Loads:
Catalog weights and dimensions are careful estimates but not guaranteed. Load designs are based on tests as submitted or by calculations of static load applications. In most cases, the load is stated with applicable factor of safety.
Freight:
All prices are F.O.B. our dock or point of shipment, unless otherwise stated. Job site delivery will incur additional charges of $150.00. Freight arrangements are the responsibility of the customer for any international shipment.
Delivery of goods to a carrier at our plant or other shipping point shall constitute delivery to purchaser regardless of freight payment. All risk of loss or damage in transit shall pass to purchaser at that time. Purchaser shall make claims for loss or damage to goods in transit against the carrier. We will assist purchaser in securing satisfactory adjustment of such claims, however; if material is delivered short, damaged or missing pieces due to carrier mishandling, receiver must make a note on the delivery receipt in order to receive replacement material.
Delivery:
The estimated shipping date is based on production time required to process the order commencing with the date the order is received by us. Should any revisions be made to the order, the original shipping date is void.
Errors:
Should an error be made filling an order, notify us promptly and we will immediately attempt to adjust the matter without expense to purchaser.
Claims:
Claims for defective material or shortages in shipment must be made in writing within 30 days of material arrival. If material is delivered short, damaged or missing pieces due to carrier mishandling, receiver must make note on the delivery receipt in order to receive replacement material.
Limitation of Liability:
WE WILL NOT BE LIABLE TO BUYER OR ANY THIRD PARTY FOR ANY SPECIAL, CONTINGENT, INCIDENTAL, INDIRECT OR CONSEQUENTIAL DAMAGES, WHETHER ARISING OUT OF BREACH OF WARRANTY, BREACH OF CONTRACT, TORT, STRICT LIABILITY, NEGLIGENCE OR OTHERWISE. Our liability with respect to a claim for any damages arising out of or connected with the sale, purchase, non-delivery, use or performance of any product will in no event exceed the price paid for the product.
Cancellation:
Cancellation of orders will be accepted only with the understanding that we will be reimbursed for expenses incurred as a result of the cancellation. Order for special or non-catalogued items are not subject to cancellation after production is started under any circumstances.
Returned Material:
Permission to return any standard merchandise must be obtained in writing within 90 days of shipment. Material credit or refund is issued pending a material inspection. Damaged or altered material is not eligible for a refund. Return freight is to be paid for by the customer, and a 15% restocking fee will apply to all returns. Returns will only be considered for standard items. Any special or non-catalogued items are not subject to return for credit under any circumstances.